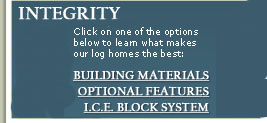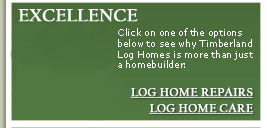 Q: How does a log home compare in cost to a conventional frame home?
A: Log homes are initially a little more expensive than conventional homes, but energy efficiency, safety, and health concerns make it the most cost effective home.

Q: What are the maintenance requirements of a log home?
A: Log homes are practically maintenance free if they are constructed properly and sealed with a quality sealer when completed. Every 5-7 years they need to be properly cleaned and retreated with a quality sealant. All Timberland Log Homes are sealed to protect them from mold, mildew, insects, and moisture. We can also provide you with the sealant for future applications or provide this service for your existing log home. Click here for more info!

Q: Are log homes energy efficient?
A: Absolutely! In fact, your walls are ultra energy efficient and our roofing system is rated at R-40--the highest energy rating available!

Q: Do you build your home or subcontract them out?
A: Timberland Log Homes are all custom built by our own construction crews. This assures our customers that every home built is a true Timberland Log Home.

Q: How do you dry your logs?
A: Our materials are our trademark. Our log systems come from either a kiln dry or air dry system depending on the wood species and application. Click here to see our materials.

Q: What wood species do you use?
A: We can get just about any material our customers desire. We primarily use Western Red Cedar, Douglas Fir, and White Pine logs.

Q: Can you custom design a home for me?
A: Yes, we can. In fact, we can take any plan you have or start from scratch and build you your Dream Log Home.

Q: With so many log home companies to choose from, what makes Timberland Log Homes a cut above the competition?
We stand ready to answer your questions! contact us anytime!